Avoiding Conventional Partial Dentures and False Teeth
Precision and semi-precision partial dentures, like conventional partial dentures, replace missing natural teeth with artificial teeth. However, the means by which they are retained in the mouth is different than a conventional clasp prosthesis.
To better understand these partial dentures types, it is best to first review the basics of conventional partial denture clasps.
How Conventional Partial Denture Clasps Function
Most partial dentures are usually kept in place by clasps. These are thin finger-like projections of special resilient metal alloy, or, in certain cases, plastic or plastic-like materials.
Clasps rest on and around certain remaining natural teeth so that their ends extend into narrow areas below a gentler bulge on the tooth. Sometimes it is necessary to shape a tooth or make a crown for a tooth or teeth in order to develop the right amount and relationship of undercut and bulge for retention.
When a partial denture is placed in the mouth, clasps gently spring over a tooth bulge and rest in a relaxed state within an undercut.
A partial dentures are held in place during normal eating, speaking and other activities because clasps resist springing back over tooth bulges.
Clasp resistance to removal is not great enough to prevent a person from comfortably removing their partial denture whenever they choose.
The Problem With Conventional Denture Clasps
Despite numerous successful conventional clasp designs, they do have some drawbacks.
Clasps may at times become visible. Often, this is unavoidable and usually is not objectionable. However, for some individuals, the show of clasps is simply not acceptable because of personal circumstances and compromised appearance.
Certain partial false teeth may function better with retentive means other than conventional clasps.
Remaining natural tooth structures may be inadequate to accommodat conventional clasps. Therefore, dental crown or crowns may need to be fabricated to correct these deficiencies.
Semi-Precision and Precision Partial Dentures -- Viable Alternatives
Alternatives to conventional clasp partial dentures fall into two categories, both of which have no clasps to show.
Semi-precision partial dentures are retained in the mouth by means of mechanical interlocking components. A specially-shaped extension of the partial denture fits into or onto a complementary receiving area or projection of a natural tooth that has been crowned.
The components fit snugly and consist of a semi-rigid metal-to-other-surface interface, which may also be metal or some other resilient material such as nylon.
Precision partial dentures are similar to the semi-precision type except that the mechanical interlocking components are manufactured to extremely high tolerances and are held together by precise alignment and a rigid metal-to-metal frictional interface of components.
Advantages of Semi-Precision and Precision Partial Dentures
A cosmetically-enhanced partial denture as compared to conventional partial dentures
No show of metal clasps
Blends in with the conformity of remaining natural teeth
Functions with a more even pressure on remaining natural teeth than conventional partial dentures
Disadvantages of Semi-Precision and Precision Partial Dentures
Semi-precision partial dentures are the most costly to fabricate
Usually some natural teeth need to be crowned
More difficult to fabricate and adjust
Some components may need periodic replacement
Which Type of Partial Denture Is Best?
Every patient has unique oral health needs that are best determined by a licensed dentist after a thorough examination.
by Joseph J. Massad, D.D.S.
Complete Denture Care and Repair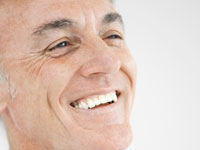 So, you've got brand new false teeth? And you think you're set for life, right? Not exactly.
It's frustrating but true: from the day you first don your dentures, the tissue in your mouth begins to shrink. Your replacement teeth are already on their way to not fitting. The ridges that support the dentures seem to have a life of their own and they begin to recede, the result? Loose dentures. The upper denture moves up and back, and the lower denture settles down. This causes your chin to approach your nose at as much as 1/16th inch per year! On top of that, the bite often goes awry, moving the upper teeth back behind the lowers.
Your appearance changes over time, your cheeks sag a little, new wrinkles around the mouth appear. Diagonal lines run from the nose to the corners of the mouth. Does the image of Gabby Hayes come to mind?
The good news
Denture wearers who refuse to succumb to a premature look of age can take heart. After all, this transformation is not caused by cheap dentures, but old dentures. It's not magic: a new denture can be made. To put it simply, the base is extended to compensate for the shrinkage in the tissue; this moves the front teeth forward to their original position. And takes years off your appearance.
Presto, chango!
Even if your present false teeth are in perfect condition, the changes in your mouth date them. In fact, don't expect dentures to last more than 5 to 10 years and still give you a natural look. A fact of life. But by replacing dentures as your mouth changes, you'll retain a youthful fullness to your face and keep a younger looking smile. If your dentures have been around a while, see your dentist and consider a new set. Old prosthodontics can make you look older, too. And that can be fixed.